Young children romping through Cadman Plaza Park last Tuesday discovered half a dozen discarded syringes under the bushes. One boy began playing with one and "something came out," as his friend told his mother. Parents frantically combed the weedy undergrowth and collected all the syringes they could find, carefully dropping them into a plastic water bottle.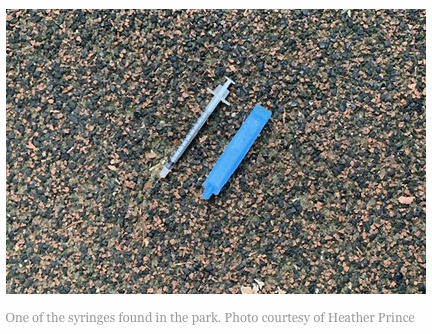 Angry parents who contacted the Brooklyn Eagle say this is just one of many signs of the park's deterioration. The rats are coming back, water fountains and bathrooms are not maintained, homeless individuals camp out by the War Memorial at night and there is no police presence, they said.
"We love this park and the kids love running through the bushes, but I'm afraid of some of the stuff I've seen lately," local mother Heather Prince told the Eagle.Prince said she brings her two boys, ages 7 and 9, to the park every Tuesday and Friday after school to meet with a big group of kids.
"They have nicknamed themselves 'The Cadman Research Center — CRC,' because they like to explore the bushes, dig in the dirt, built forts with fallen branches," she said.
Around 6 p.m. on Aug. 27, her 7-year-old son ran over to her to tell her what the young explorers had found: a syringe.
"We really didn't know who to call," Prince said. "We tried to find an officer to help us dispose of the needles, but there were none around. We were afraid that if we just threw them in the trash the sanitation workers might get stuck." Read full story here: https://brooklyneagle.com/articles/2019/09/05/needle-park-in-downtown-brooklyn-kids-find-syringes-parents-demand-cleanup/