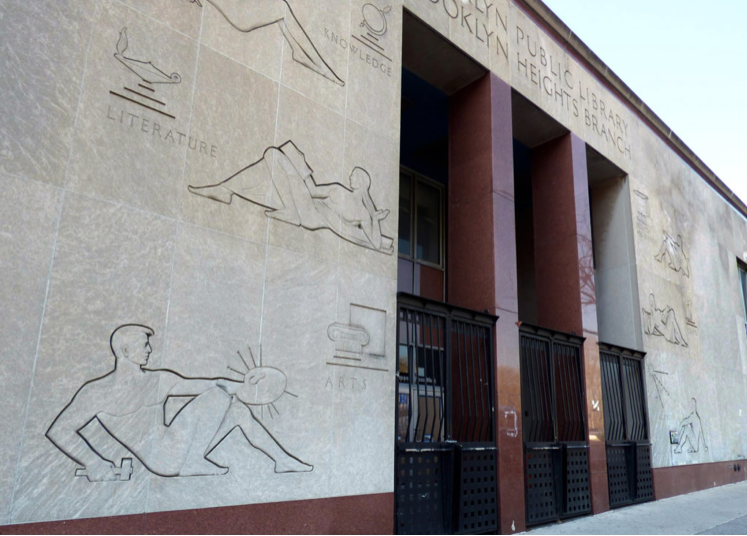 Six bas-reliefs by Italian sculptor Clemente Spampinato (1912-1993), which were removed from the front façade of the former Brooklyn Heights Library before it was demolished, will be enjoying a second artistic life.
The classic carvings — which depict industry and businesses, crafts, sciences, knowledge, literature and the arts — will be split up and displayed at two different libraries, according to Brooklyn Public Library.
"Two of six sets will go into meeting rooms in the new Brooklyn Heights Library. The other four will go into a new garden which will be created outside the Walt Whitman Library," Fritzi Bodenheimer, Brooklyn Public Library spokesperson, told the Brooklyn Eagle.
The Brooklyn Heights Library will be rebuilt at 280 Cadman Plaza West at the base of a luxury tower, currently in construction. The Walt Whitman Library is located at 93 St Edwards St. in Fort Greene.
Bodenheimer said that the developer (Hudson Companies) is storing the 10-by-11-foot panels as part of the agreement negotiated when the Brooklyn Heights Library site was sold.
The library's sale was approved by the City Council in December 2015 and the Brooklyn Borough Board in March 2016 after three years of vocal community opposition and a series of raucous land-use hearings.
Councilmember Stephen Levin, who brokered the deal and represents the area, called the library sale "the most controversial issue I've seen in my district since being elected in 2009." Read full story here: https://brooklyneagle.com/articles/2019/09/03/beloved-art-from-former-brooklyn-heights-library-is-coming-back/